Dr. Jessica Milne
Dr. Jessica Milne has been practicing dentistry in Sarnia since she graduated from the University of Toronto in 2014. She is a 3rd generation dentist following her grandfather Dr. George Milne, her uncle Dr. John Milne, and her father who was an orthodontist, Dr. Paul Milne. Something unique about Dr. Milne is that she was the first dentist in the region to use Solea laser technology that replaces the dental drill and often the needle to treat cavities. Dr. Milne practices general & cosmetic dentistry and offers a wide variety of services including dental implants, crowns, bridges, veneers, pediatrics, and infant frenectomies and tongue ties.
She loves staying current with technology and indulges in many continuing education courses in order to provide the best care for her patients. Another passion of hers is straightening teeth that were fostered by growing up with, and working for, her father who was an orthodontist. Solea technology has improved her ability to manage soft tissue during traditional orthodontics and also enabled her to perform her own exposure of teeth. Dr. Milne's goal and treatment success stem from individualized care by putting the patient first when providing treatment plans and services that best represent the patient's needs.
She is also passionate about giving back to the community she grew up in through sponsoring many local charity events, and sports teams and volunteering her time as an executive board member for the Lambton College Board of Foundation. Dr. Milne enjoys spending her spare time with family, taking her dog for walks, playing soccer, and sailing with her Dad.
Katrina Derlis
Hygienist and Level II Dental Assistant
Having always had an interest in dental care, Katrina Derlis, also known as Kat, decided to pursue a career as a dental assistant. After spending some time working as a dental assistant, she was inspired to continue her dental education, graduating from the dental hygiene program at St Clair College in 2014.
As a proud registered dental hygienist and level II certified dental assistant, Kat is passionate about patient education and patient goals. She truly believes that changing a patient's smile can transform their life. So, naturally, one of the things she enjoys most about dentistry is sharing this passion and seeing those transformations firsthand. This also brought her into another part of the dentistry field that she loves – Orthodontics! She started working in orthodontics in 2020 which allowed her the opportunity to enhance her skills and play a bigger part in patient smile transformations!
Outside of the dental office, nothing brings her more joy than her family – her husband Mike, and daughters Isley and Lenna. They love relaxing on the river or by the pool making memories with their friends and family.
She is so grateful to be part of the Wiltshire dental family. Kat was drawn to this office because, here, patients are treated as family and not just teeth. She truly enjoys working in such a positive and happy place.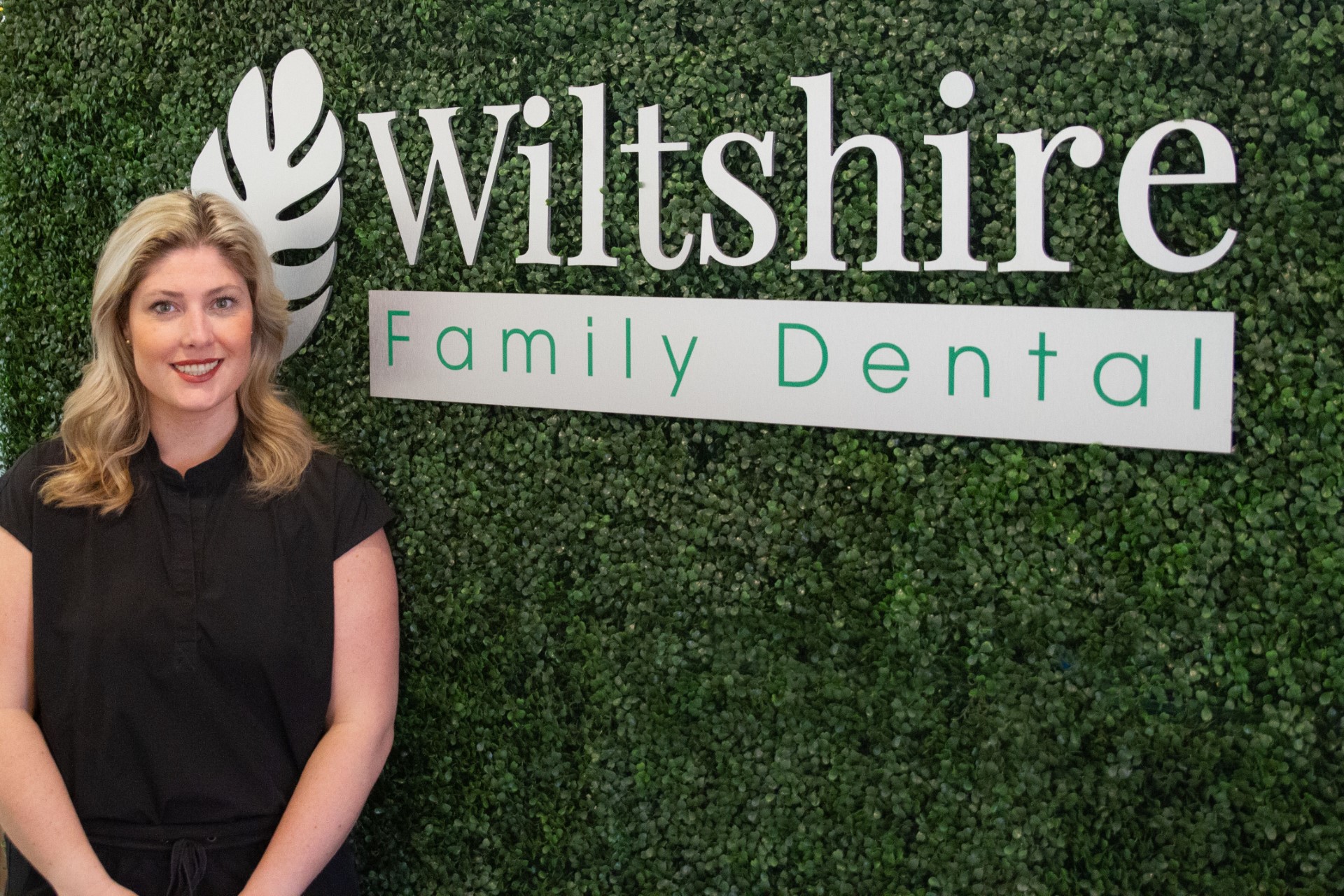 Kristin Teasell
Hygienist
Kristin, born and raised in Sarnia, embarked on her educational journey at St. Patrick's High School. Following her high school graduation, she ventured to Toronto to pursue her passion for dental assisting. After gaining a year of valuable experience in the field, she transitioned into dental hygiene.
In 2011, Kristin completed the dental hygiene program at Oxford College, marking a significant milestone in her career. In 2016, she returned to her hometown of Sarnia and began her professional journey in periodontics, demonstrating her commitment to the dental health field.
Kristin tied the knot in September 2019, adding to her personal life achievements. She shares her life with two charming French Bulldogs, aged 6 and 4, who bring boundless joy to her days. In her leisure time, Kristin's love for travel takes her on adventures whenever she has a moment to spare.
Sarah Hachey
Dental Assistant
Meet Sarah Hachey, an esteemed dental assistant with an impressive 25-year tenure in the field. Sarah is dedicated to making your dental visits as seamless and stress-free as possible.
Sarah has encountered a wide spectrum of dental cases, making her adept at handling various dental needs. She remains committed to staying at the forefront of the dental landscape through continuous education, ensuring that patients receive the highest quality of care available.
Since her graduation in 1998, Sarah has been a steadfast member of the Ontario Dental Assistants Association (ODAA), showcasing her unwavering commitment to her profession and its ethical standards.
Outside of the clinic, Sarah finds joy in spending quality time with her family, tending to her beloved garden, and indulging in her passion for football. Her multifaceted interests reflect her vibrant personality and dedication to both her profession and personal life.
Nicole Roberts
Dental Assistant
Nicole's passion for dentistry was ignited at a young age when she cherished her visits to the dentist's office. Inspired by the Dental Assistant who made her experiences so positive, she embarked on a journey to become a dental professional. Having personally undergone numerous dental procedures, Nicole understands that the dental office is not everyone's preferred destination. With unwavering dedication, she strives to create a comfortable and welcoming environment for all who visit her and her team at Wiltshire Family Dental.
With nearly two decades of experience as a Dental Assistant, Nicole has honed her skills and expertise in various dental offices throughout her career. However, when she met the Wiltshire Family Dental team, she recognized that she had found her permanent professional home.
Maureen Cosgrave
Dental Administrator and Practice Lead
Hailing originally from Janetville, Ontario, Maureen has proudly called Sarnia her home for over two decades. While her journey didn't always lead her to the world of dentistry, her unwavering commitment to helping others has been a consistent thread throughout her life.
Maureen embarked on her academic journey at the University of Guelph, where she pursued studies in Hospitality & Human Resources Management. Her passion for assisting and supporting individuals naturally led her to the dental field, where she found her calling.
Today, Maureen finds immense pleasure in being an integral part of the exceptional team at Wiltshire Family Dental. To her, they are more than just colleagues; they are a close-knit family. Together, the entire staff shares a common goal: to ensure that every patient feels comfortable and at ease.
Beyond her professional pursuits, Maureen's life is enriched by her love for cooking, gardening, and cherishing moments in her backyard alongside her husband. Their furry companions, including their dog Sonny and multiple kitty cats, complete her picture of a well-rounded and joyful life.
Address
914 Murphy Road, Unit 10Sarnia ON
Hours
Monday: 9:00am - 5:00pm
Tuesday: 9:00am - 7:00pm
Wednesday: 9:00am - 7:00pm
Thursday: 9:00am - 5:00pm
Friday: 9:00am - 3:00pm
Saturdays: 8:00am to 5:00pm