Why Choose Wiltshire as Your Dentist in Sarnia, Ontario
As a Dentist in Sarnia, our goal at Wiltshire Family Dental is to provide a full range of dental services in a relaxing family environment. Our Sarnia Dentists offer comprehensive oral health services including regular check-ups, Laser Dentistry, preventative dentistry, Invisalign Clear Aligners, and much more to help you reach all of your oral health goals. Feel free to stop in for a tour of our newly renovated Dental Clinic in Sarnia and to meet our team of dental professionals!
01. Family Oriented Care
Welcoming patients of all ages from toddlers to seniors. We'd love to meet you and your family!
02. Full Service Dentistry
Offering a wide range of dental services including exams, cleanings, sedation, implants, and more.
03. Direct Billing and Payment Plans
We take care of billing your insurance based on your coverage and offer payment plans so you can receive the care you need.
Looking for a New
Dentist in Sarnia?
Family Dentist in Sarnia
If you are looking for a family dentist in Sarnia, Ontario, then you should visit Wiltshire Family Dental. We offer a wide range of family oriented dental services, including Emergency Dentistry in Sarnia.
If you're looking for the latest dental news, you'll want to visit Wiltshire Family Dentistry. Not only do they offer the latest dental procedures, but they also offer a blog, so you can learn about their services and keep up with their latest news. Contact information for Wiltshire Family Dental is listed below. If you're not already a patient, you can sign up to receive the latest news from the practice.
Sarnia Dentist Location
For those of you who live in Sarnia and are looking for a dentist, Wiltshire Family Dental is the perfect place to have your oral health care needs addressed. We are conveniently located on Murphy Road, just north of the 402. If you're considering a dental office in this area, consider checking out our location for your Family Dental needs! Our staff are here to provide you and your loved ones with the high quality, compassionate dental care you deserve.
Family Dental Care in Sarnia
If you are looking for a family dentist in Sarnia, then you have found the right place. Wiltshire Family Dental is the hub of the Wiltshire neighborhood, providing comprehensive dental care to people in the Sarnia area. We treat children and adults of all ages, offering preventative care, routine cleanings, and much more. You will be glad you found us!
Cosmetic Dentist in Sarnia
Looking for cosmetic dentist in Sarnia? Wiltshire Family Dental is a local family-friendly clinic that provides many cosmetic dentistry treatments in addition to Family Dentistry services. Whether you require tooth repair, fillings or cosmetic upgrades,  you can trust our team as your family dentist in Sarnia to help you achieve the look you've always wanted.
Dental Implants
If you are missing teeth, you may want to consider getting dental implants. Implants are a great way to fix the problem without removing your natural teeth. The process involves a few steps, including an X-ray, prophylactic cleaning of your gums and teeth, and the actual fitting of the implant. As a Family Dentist, Dr. Jessica Milne will be able to go over your options for Dental Implants if it's the right treatment for you!
Teeth Whitening
If you are unhappy with the colour of your teeth, you may want to consider whitening them with a professional whitening treatment. The in-office procedure usually lasts for about 1.5 hours. At Wiltshire Family Dental, we use ZOOM Professional Whitening – one of Canada's top Teeth Whitening products.
Sedation Dentistry
Sedation dentistry is an option that gives patients a more relaxed experience while having their dental procedure done. The patient is given a prescription medication prior to the appointment, which allows them to feel relaxed before the procedure. A trained escort must accompany the patient on the day of the procedure. Sedation dentistry can help patients with dental phobias or anxiety to sit through a procedure and relax. They may even get more work done in fewer visits.
People may be afraid of oral surgery or dental implants. However, not replacing missing teeth can have long-term effects on a person's health and quality of life. Sedation dentistry allows dental surgeons and dentists to work on a patient without worrying about pain or anxiety. This is especially helpful for patients who are afraid of the dental procedure. Sedation dentistry allows the dentist to perform a full range of procedures in a relaxed environment.
Invisalign
If you have a crooked, crowded smile, you might want to learn about Invisalign. This cutting-edge dental procedure straightens your teeth while making them virtually invisible. Additionally, you can remove them when you eat. Regardless of the cause, Invisalign can be a great way to improve your smile and boost your self-confidence. Contact Wiltshire Family Dental today to learn more about Invisalign.
If you're in need of a family dentist in Sarnia, give Wiltshire Family Dental a call to get started. We offer Direct Insurance Billing, Free Parking, Emergency Dental Care, and more. We'd be happy to meet you and the family! 
Frequently Asked Questions
Here are some of the most commonly asked questions from our patients and the community of Sarnia!
 Family Dental Services in Sarnia
Cosmetic Dentistry
Beautify your smile and boost your confidence! Our Cosmetic Dentist – Dr. Jessica Milne – will work hard to provide you with a brighter and straighter smile, your inner glow will show each time you smile and show off your cosmetic dental treatments. Getting to know your dental background and history allows our team to create a comprehensive treatment plan to help you achieve your goals when it comes to your smile.
Read More
Dental Implants
If you are missing a tooth or multiple teeth, dental implants are a wonderful replacement. The artificial tooth is implanted into the gums and may even help as a stabilizing anchor for dentures.
Dentures
Just because you are missing teeth or have tooth decay, it does not mean that you have to stress about your smile and ability to speak properly. Our Sarnia dental team can design and implement your dentures on-site, completely customized for your specific needs. Get your smile back today by consulting our dental team to find out if dentures are the right solution for you!

Family Dentistry
Our supportive and caring dentist team provides treatments and regular check ups for the entire family. Routine dental hygiene check ups are necessary for growing children, as their teeth and jaw are constantly undergoing changes. Regular maintenance of your children's oral health will help ensure good hygiene habits and preventative care for a bright future with a healthy smile!
Our Dentists at Wiltshire Family Dental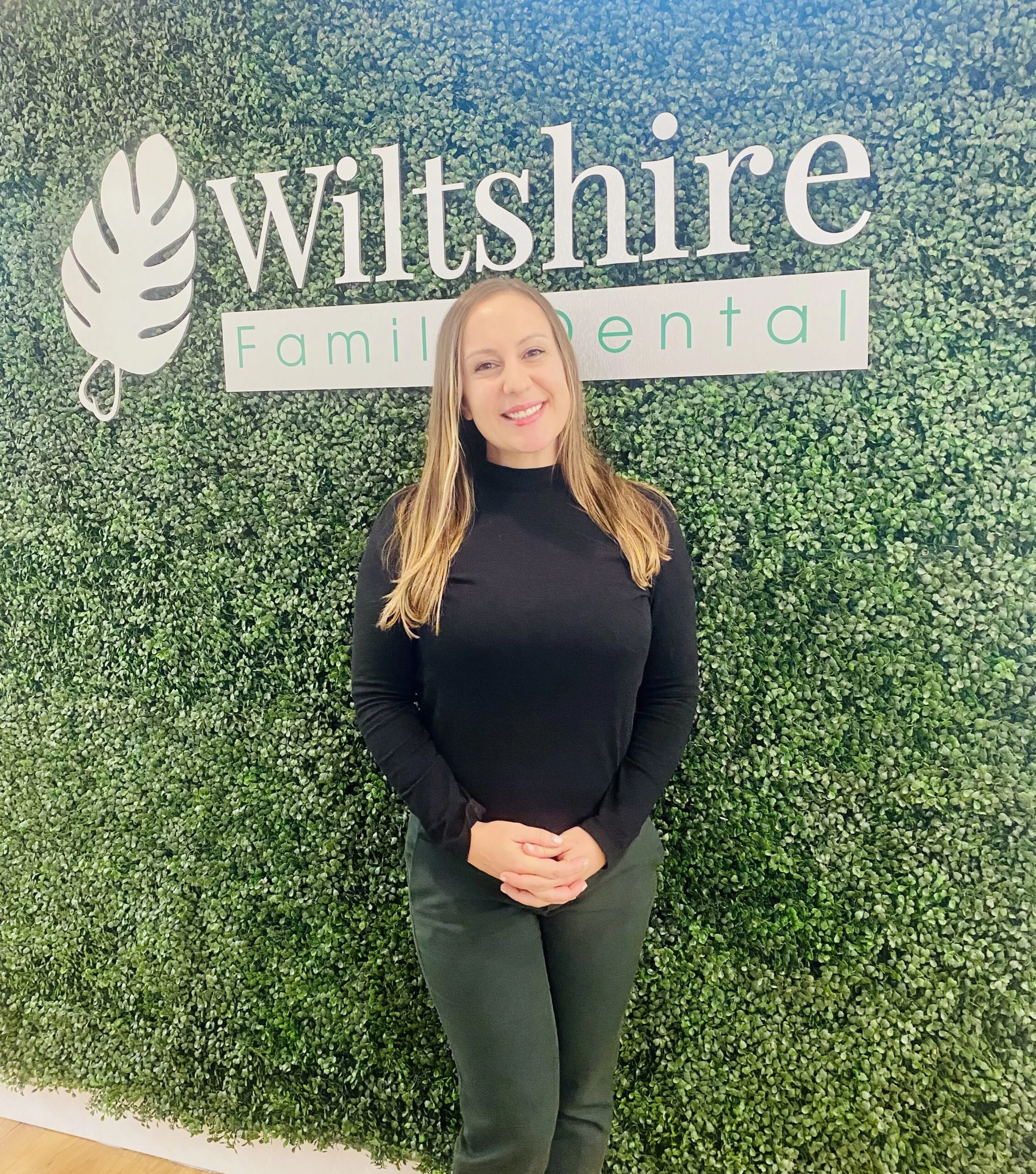 Dr. Jessica Milne
Dr. Jessica Milne has been practicing dentistry in Sarnia since she graduated from the University of Toronto in 2014. She is a 3rd generation dentist following in her grandfather Dr. George Milne, and Father Dr. Paul Milne, foot-steps. Something unique about Dr. Milne is that she is the first dentist in the Sarnia region to use a laser that replaces the dental drill and often the needle to treat cavities! Schedule an appointment with Dr. Jessica Milne today!
Dr. Michael Rondinelli
An active member of the Canadian Dental Association, the Ontario Dental Association, the Michigan Dental Association, the American Dental Association, the Hands-On Training Club, the Lambton County Dental Society, the Academy of General Dentistry and many others.
Dr. Mike dreamed that one day he would also serve his community as well. He went on to attend the University of Western Ontario and obtained a degree in Genetics. From there, Dr. Mike attended the University of Detroit Mercy School of Dentistry before moving back to his home town to open up his very own Dental Clinic in Sarnia!
Searching for a New Dentist in Sarnia? We'd be happy to answer any of your questions
Dr Milne and her staff are great!! I have been going to Dr Milne  for quite some time. I can't say enough about all the staff. They made me feel comfortable every time I have been there. The conversations take my mind off of the dental work. (Even if it is one sided most of the time. Lol). Thank you all for the great work and company. You make me feel like family.
★ ★ ★ ★ ★
Wiltshire family dental is great!  The staff is friendly and helpful. Dr Jessica Milne is the best Dentist I have ever been to.  I have been with her for awhile now and ever experience is great. Her assistant is wonderful also
★ ★ ★ ★ ★
Dr. Jessica Milne & her staff are very attentive and caring. They make you feel comfortable from the moment you enter the office. Dr.Milne uses innovative equipment and technologies to address patients' dental needs. I feel fortunate for the care she provides to my family. I highly recommend Wiltshire Family Dental.
★ ★ ★ ★ ★
The staff at Wiltshire family dental are great. They are so welcoming and friendly. They put you at ease. The laser is such a cool thing. No freezing and the appointments are quicker. I would recommend Dr. Milne to anybody in the area looking for an easy dental experience.
★ ★ ★ ★ ★
Always professional. Exceptional service. Dr. Milne and her staff are all extremely good at what they do.  They're so organized, efficient, and the office itself is so clean.  I'm always greeted by name with a smile.  Customer service is top notch.  Dr. Milne is amazing with kids too!
★ ★ ★ ★ ★
Had to see the dentist last week for an emergency tooth break. The staff was very helpful and pleasant to deal with. Everyone from reception, to the assistant, to the dentist were an absolute pleasure to deal. Very friendly service with experience and knowledge to stand behind. Couldn't ask for a better office to deal with, especially as I despise having dental work done. All in all, I would highly recommend anyone to switch to Wiltshire Family Dental, with Dr. Jessica Milne and her lovely team to help make the transition easy and enjoyable. Thank you guys for making my experience so wonderful 🙂  Would rank this office 15/10 if google would let me!
★ ★ ★ ★ ★
Professional, courteous and friendly staff, excellent service always. Everyone at Wiltshire Family Dental goes above and beyond!!! Would highly recommend!
★ ★ ★ ★ ★
Address
914 Murphy Road, Unit 10Sarnia ON
Hours
Monday: 9:00am - 5:00pm
Tuesday: 9:00am - 7:00pm
Wednesday: 9:00am - 7:00pm
Thursday: 9:00am - 5:00pm
Friday: 9:00am - 3:00pm
Saturdays: 8:00am to 5:00pm